Digimon TCG: Beelzemon Advanced Deck [ST-14] - DISPLAY BOX (8 Decks)
This item is for a full DISPLAY BOX of ST-14, which includes 8 starter decks.

--------
The first Mega Deck Set in the Digimon Card Game themed around the fan favorite Beelzemon!
All cards are silver foil, and the deck is more powerful than the regular starter deck set, so even beginners can play with a strong deck right away! In addition, there is a "lucky deck" that contains special-edition cards - a must have item for collectors!
PRODUCT SPECIFICATIONS

Total of 16+9 Card Types
Rarities:

Common: 4 types

Uncommon: 4 types
Rare: 3 types
Super Rare: 4 types
Promotion: 1 type
Special Reprint: 9 types

Includes a ready-to-play 54-card deck that you can use to start the game immediately.

Also in the box: 60 card sleeves, 2 memory gauge cards, 3 index cards, 10 side cards, and 1 playsheet.

Identical cards may exist in this deck.


Ages 6+
Model: BJP2662781
UPC: 811039039059
Released: March 24, 2023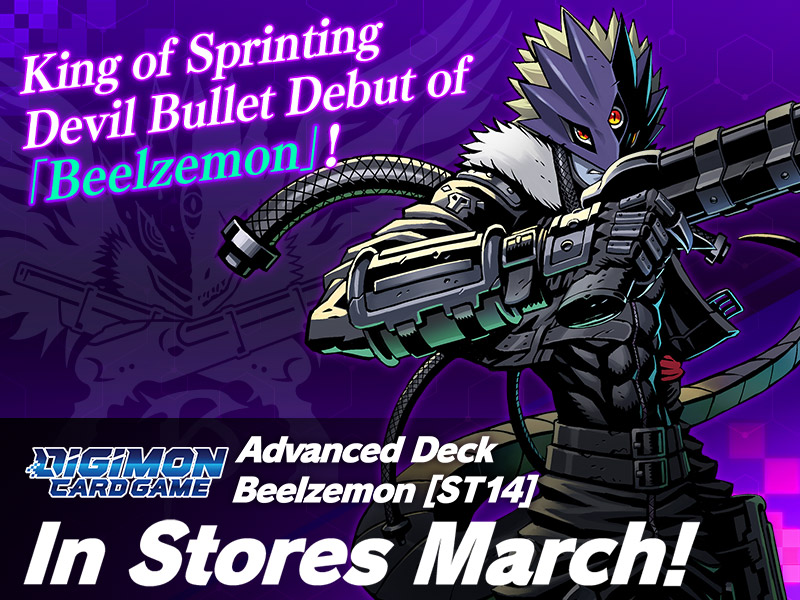 ---
We Also Recommend